thank god it was friday
had a great friday.
well, i slept til like noon of course, like everyone else, haha! i started taping my old sketches and some of my new paintings on my wall. maria, my co-worker, picked me up around 2:40 so we can be on time for a meeting at work (motel6). had a great time chatting with all the front desk peeps whom i barely see. meeting ended at 5, and brandie asked me to watch a movie. i was like "great! pick me up around 6." movie didn't start til 7.20, so we grabbed some munchies first since movie food is ridiculously expensive, i swear them people will burn in hell, in boiling popcorn oil. but anyway, saw elektra! danda-danda ni jennifer garner... if she smiles. she looks ugly when she's all serious and ninja-y. swung by barnes and nobles and by golly, saw some anne rice. i just couldn't help myself, i had to grab the vampire chronicles. i already read the first six, and lo and behold, the next three are in stock. to hell with saving, i'm feeding my head. sorry, dad, your book has to wait.
in our image
is all good, but there's nothing there i don't know. so i'm back to reading the vampire chronicles :-)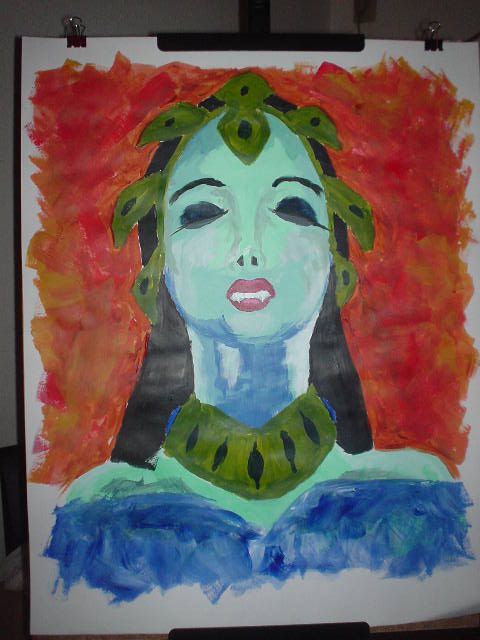 queen of the damned
the irony is not lost in me: aaliyah died right after playing the role of the queen of the undead.
so, how was your friday?